Principles for better home design – Use Thick Walls
In this series I'll attempt to explain many ideas which contribute to sustainable building design using traditional principles and patterns. In this article we explore the principle of Thick Walls
About the Principle
Thick walls should be considered for many parts of a home, both internally and externally. Thick exterior walls provide space for insulation and interesting opportunities for lighting and seating at windows. Walls do not need to be as thin and cheaply built as possible, just because they are inside the building either. In fact the opposite is true, and thick internal walls have a number of very important advantages in a home.
Thick walls add texture and life by allowing depth for nooks and niches, built in seats, shelving, and in many cases hand crafted natural material to touch and carve and shape over decades of use. They provide a block of thermal mass to store heat in winter and draw heat from the air in summer, to help maintain a constant temperature in a home. Using rammed earth, mudbrick, cob, hempcrete etc also provides a humidity "battery" as the material itself draws in and releases humidity in the air, maintaining good air quality.
How to use This for Sustainable Building Design
For exterior walls, use a highly insulated wall system to reduce energy use and maintain internal air temperature in extreme conditions. There are plenty of ways to create thick walls and high levels of insulation, and many of them are very cost effective. One of the best methods for both insulation and sustainability is to use Straw bales. This is a pretty standard technique these days and there are many homes in many different styles which use the material. Another great one is a double stud wall, where a standard balloon or stud frame is used, and then a second wall frame is built just inside. This creates a thick cavity for insulation and is not difficult or expensive to do.
For interior walls, there are plenty of ways to add both depth and mass using either natural or manufactured materials. Freestanding solutions using natural materials such as rammed earth or cob can be sculpted as they are built, shaped and carved over time to meet changing needs, and are super low in embodied carbon. More structured methods include hempcrete, woodcrete, stone, and mudbrick. These give a less organic finish but with many of the advantages of the freeform methods. Manufactured materials such as brick, concrete block, and poured concrete have great thermal mass and work the same as their natural counterparts, but have a higher carbon footprint. Recycled brick is a great option here.
Here is a design image showing some of the interesting features that can be included in a home by using Thick Walls.
In this example I've shown the internal wall as rammed earth, with a large seating alcove and built in shelving. These features would be designed into the wall and formed up prior to install. The thickness of the wall maintains great structural strength with the arch taking the roof load down to the foundation.
The exterior wall is shown here as Strawbale with a nice flared window opening. These window openings in a strawbale wall are a great way to get some natural curves and give a beautiful spot to sit in the sun and watch the garden.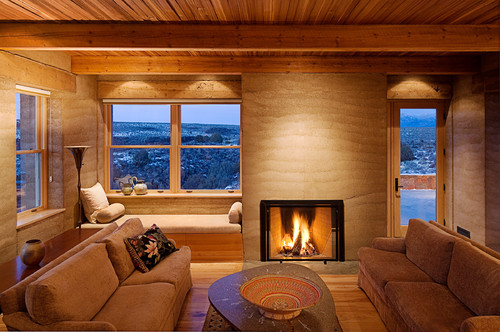 Photo by Nick Noyes Architecture – Look for living room pictures
This photo is from a project by Nick Noyes Architecture in California, with Photography by Kirk Gittings. Here they've included a cozy window seat built into an exterior rammed earth wall, with flared reveals on the window.